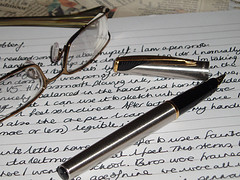 Using Examples of Personal Statements as Guides on How Being Competitive Can Help You Excel in College
Being competitive can be a problem or a benefit, depending on the situation you are in and how you channel your competitive spirit.  When you are applying for college, competition is something that you have to be very aware of.  With thousands of students applying to the same colleges and universities that you apply to, you definitely have to show the admissions committee why you deserve to be accepted into their school.  Although the competition may be tough, you can definitely make it into and through college if you have the right competitive spirit.  One of the ways to let this spirit come through to the admissions committee is through your personal statement.

Why is the personal statement so important
The personal statement is one of the most essential requirements in your application package.  Even if your transcripts aren't flawless and your resume isn't perfect, the personal statement can sway the decision of the admissions committee.  In other words, the personal statement can give you a competitive edge over all of the other applicants.  The trick is basically to introduce yourself to the committee and show them why you have the right personality, virtues, and values to succeed in college and beyond college.
Writing about competitiveness in your personal statement
A great way to make effective use of your personal statement is to discuss your competitive spirit and how it has helped to form your character and personality.  For example, many people who write about competition are athletes or anyone else who participates in competitive events.  It's important not to sound as though you are obsessed with or get carried away by competition.  Instead, focus on how your competitive nature has helped you overcome adversity, challenges, and other difficult times in your life.  It is also a great idea to explain how you have grown as a person as a result of the various experiences that you have had in the past.
Using examples of personal statements
Examples of personal statements can help you in writing your owncompetition-inspired essays.  The trick is to take note of how other people have developed the theme of competition throughout their essays.  Also, try to analyze which types of competitive situations they chose to write about and how they linked these experiences to their personality traits.  If you really want to write a moving and heartfelt essay, you can focus on the most difficult competition you have faced in the past, the outcome of the challenge, and how the outcome made you a better person who is more ready to deal with the hardships of college.
How a competitive spirit can help you through college
Aside from focusing on past experiences and how they have made you into the person you are today, you should also think about how your competitive spirit can help you through college in the future.  Reflect on the types of traits that competition builds, such as leadership, teamwork, independence, self-motivation, the ability to rise to the occasion, and perseverance.  Getting through college has a lot to do with honing these traits and skills.  In your essay, try to touch on how your competitive spirit and everything that you have learned from competition can help you get through college and deal with the many challenges ahead of you.
Photo Credit : Bright Meadow